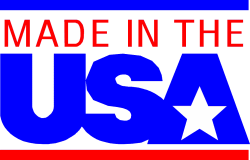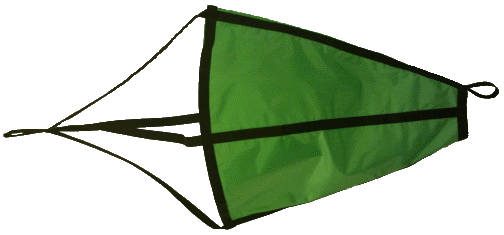 Besides slowing the boat, trolling bags give more stability in rougher conditions.
Slows your boat without cutting back on the throttle
Made of lightweight but durable vinyl-coated nylon. Can be easily folded into a small package for storage.
4 strong 1" polypro webbing straps sewn all of way along the bag w/built-in loops. Wide and narrow ends reinforced with webbing along entire opening.

Weighted bottom & float on top

for easy deployment
Bag should be run in approximately the middle of the boat. Tie rope to each loop on bag & then attach to boat.
Use in pairs recommended for trolling
Odd numbers can be used to straighten boat when boat is "crabbing" & lines are not running straight.
6 size bags for every boat size - Size is measured along the curve of the wide end when the bag is laying flat.
2 sets of bags (1 larger & 1 smaller) can sometimes be used to slow large boats.
Can be used as a drift sock or sea anchor (required for charter captains)
Not recommended for use on boats with little freeboard (e.g. bass boats)
Due to boat material (fiberglass or aluminum) and differences in weight, engine size, speed reached when throttle is dropped & other factors, recommended sizes may vary. We do not recommend trolling at idle speed (or just above idle) due to lack of oil pressure & steering control. We recommend trolling at 800-1,000 RPM. Call us @ 248-344-0958 if unsure of which size to get.
General Recommended Sizes
(Speed reached at 800-1,000 RPM is the most important factor)
Size
Salmon
Walleye
22"
Up to 18' boat
25"
18' - 22' boat
Up to 15' boat
28"
22' - 25' boat
15' - 17' boat
36"
25' - 30' boat
17' - 21' boat
42"
30' - 35' boat
21 - 24' boat
48"
Over 35' boat
Over 24' boat
Warranty: We make our bags with care from high quality materials and have customers who have used them for years. We will repair or replace a bag due to manufacturers defect for 1 year. Sorry, but we cannot warranty damage due to boat acceleration while bag is still in the water.
22" $38.99
25" $42.99
28" $49.99
36" $61.99
42" $74.99
48" $89.99
View Storage Bags for Trolling Bags